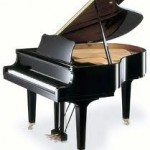 German pianist Hauschka plays what he calls "prepared piano".  The avant garde performer (real name Volker Bertelman, modifies his piano with an assortment of items including tin foil, bottle tops, ping pong balls and gaffers tape in order to create an entirely new sound.
Read more about Hauschka here.
Want to see him perform?  Click here.
Tapenews.com is your source for "all the news that's fit to stick". Send us your interesting tape news and we'll share it with the world! Thetapeworks.com.