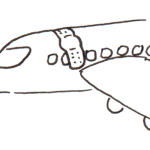 Foxnews.com reports that a Ryanair flight with 200 passengers aboard and headed from England to Latvia, was forced to return to Stansted airport in Britain after after gaffers tape that a Ryanair crew used to seal the plane's windshield failed in flight.
Ryanair claimed that the tape was used as an extra precaution to hold a new seal in place and was standard procedure.
The Irish Aviation Authority is investigating.

Tapenews.com is your source for "all the news that's fit to stick". Send us your interesting tape news and we'll share it with the world! Thetapeworks.com.