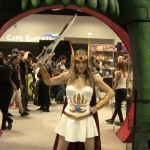 Runway fashions at New York's Fashion Week wasn't just about clothes.  Hair was a big deal too.
Hair stylist Guido used strips of electrical tape, white and black, to highlight models hair in the Alexanger Wang show.
No word yet if  Guido will push the "bald" look in his next show, after the models try to get the tape out of their hair.
Tapenews.com is your source for "all the news that's fit to stick". Send us your interesting tape news and we'll share it with the world! Thetapeworks.com