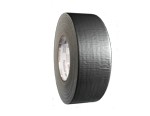 When he was an apprentice stove carver, Joe Girandola used duct tape for finger protection.
Over the years he developed a strong interest in this material as he discovered more and more uses for it.
Today, the former college art professor uses duct tape as his art medium,  using the sticky stuff to make duct tape "paintings".
You can read more about his work by clicking here.
Tapenews.com is your source for "all the news that's fit to stick". Send us your interesting tape news and we'll share it with the world! Thetapeworks.com