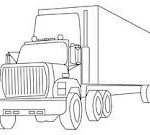 Law enforcement officials in Livington, MT cited a Canadian truck driver in a fuel spill incident after the driver tried to fix a fuel tank leak with duct tape.
The driver attempted to patch the leak with the universal fix-all before going to sleep.  He was awakened in the middle of the night after the local fire department responded to a 100 gallon leak of diesel fuel.
You can read the story here.
Tapenews.com is your source for "all the news that's fit to stick".  Send us your interesting tape news and we'll share it with the world! Thetapeworks.com