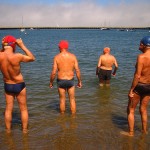 In an attempt to bring tape science to the beach, Tim Clark of Melbourne, Australia has developed a gaffers tape "mankini".
The one piece bathing suit is constructed of a tape product that is supposed to be waterproof.  We have no interest whatever in following up on the results of this test.
If you want to see a picture of Clark making an absolute fool of himself, click here.
Tapenews.com is your source for "all the news that's fit to stick". Send us your interesting tape news and we'll share it with the world! Thetapeworks.com