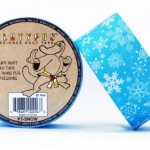 When two twelve year old girls from Illinois found out that a friend was planning a mission trip to Ethopia, they started a fund raising campaign by making a selling duct tape bracelets.
To date the pair have raised $450 and the orders continue to roll in.
Funds raised by these two motivated tweens will be used to purchase supplies to support the mission trip.
You can learn more about their efforts by clicking here.
Tapenews.com is your source for "all the news that's fit to stick". Send us your interesting tape news and we'll share it with the world! Thetapeworks.com