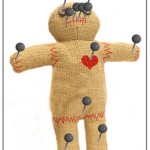 Robin Wilson-Owen has found a way to use masking tape to make dolls in the image of her friends and family members.
This newest take on the classic voodoo doll is personalized uses masking tape to create a doll framework that is then covered with tissue paper to give a smooth finish.
No word yet on whether Wilson-Owen has a system for rolling the tape into pin shapes that she can stick into the dolls.
Tapenews.com is your source for "all the news that's fit to stick". Send us your interesting tape news and we'll share it with the world! Thetapeworks.com