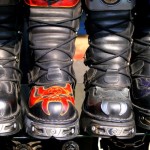 This week's death of former British Prime Minister Margaret Thatcher has brought punk music back into the public consciousness. Bands like The Clash and singers like Elvis Costello made their first hits as responses to the "Iron Lady's" tough fiscal policies and their music defined an entire British generation.
This look back in time coincides nicely with next month's show at the Costume Institute at the Metropolitan Museum in New York.
Vogue is also featuring punk fashion, with a gaffers tape embellished dress on their UK web site.
You can see the dress and learn more about the show here.
Tapenews.com is your source for "all the news that's fit to stick". Send us your interesting tape news and we'll share it with the world!