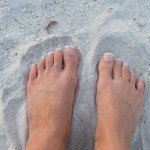 Kathy Antoniotti, who writes a crafts colum for the Akron, Ohio Beacon Journal recommends that anyone planning to attend the annual duct tape festival in Avon, OH this summer should consider making themselves a pair of duct tape flip flops to wear to the festivities.
See a picture here.
Get your own crafting supplies here.
Tapenews.com is your source for "all the news that's fit to stick". Send us your interesting tape news and we'll share it with the world!