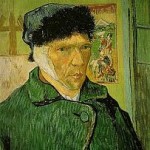 Well, not literally.  But Pete Warburton, an artist who uses duct tape as his medium, has created a whole show of Van Gogh reproductions styled from duct tape.
Warburton's work, currently on display at Biggyby Coffee's Plymouth Road Cafe in Ann Arbor, MI , hopes that his Van Gogh re-creations can be a spring board for professional arts career.
You can read more and see his work here.

Tapenews.com is your source for "all the news that's fit to stick". Send us your interesting tape news and we'll share it with the world!