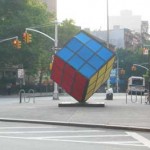 Taking to the street to build a Rubiks cube as big as a New York City studio apartment, these college students created a cube from duct tape and cardboard that looks amazingly like the original.
You can read the whole story and see more pictures here.

Tapenews.com is your source for "all the news that's fit to stick". Send us your interesting tape news and we'll share it with the world!