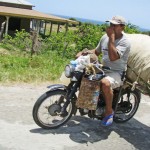 Luke Evans, a journalist covering this year's Tour de France for Cycling Weekly is one of many writers and photographers following the race by motor bike.
Evans reports that while his bike was parked on the street in Nice, someone broke into its storage compartment and stole his gaffers tape.
Here is where he can get some more.