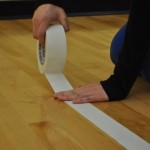 The science page at NBCNEWS.com featured an extensive article on duct tape, titled"How duct tape patched up the world-and why we're sticking with it".
Still waiting for Matt Lauer to duct tape Savannah Guthrie to her chair.
Tapenews.com is your source for "all the news that's fit to stick". Send us your interesting tape news and we'll share it with the world!