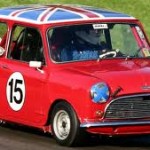 British Newspaper The Guardian recently interviewed well known designers about what they thought were the greatest design creations.
Noted English designer James Dyson (Dyson vacuum cleaners) chose the Mini auto, architect Richard Rogers chose a bicycle made by Bompton, and industrial designer Ron Arad's choice was a lamp created by George Carwardine.
Our favorite was the choice of of noted photographer David Bailey.  His choice? Gaffers tape.
Click here to see these influential  creators with their choices.
Tapenews.com is your source for "all the news that's fit to stick". Send us your interesting tape news and we'll share it with the world! Thetapeworks.com