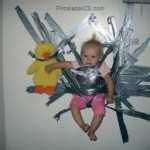 The Chicago father who was arrested after posting a picture of his daughter bound with tape on Facebook is guilty of nothing beyond bad judgement.
Andre Curry was imprisoned because he was unable to post a $100,000 bond after he posted a picture of his daughter tied up with blue painters tape on his Facebook page.
Curry was charged with felony domestic abuse and accused of wrapping the child in duct tape.
It turns out that the little girl was posed with her arms and legs bound in blue painters tape, a light weight paper masking tape with a very easily removable adhesive.
It appear that that Curry is the victim of an overly aggressive prosecutor and never did anything to endanger or abuse his daughter.
Curry has no history of child abuse and a doctor's examination indicates that there were no injuries to the child.
Tapenews.com is your source for "all the news that's fit to stick". Send us your interesting tape news and we'll share it with the world! Thetapeworks.com