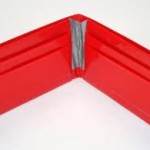 Jack Staub and Aidan Skokan, two seventh graders from Portland, OR raised $250 for the Center for  Medicallly Fragile Children by selling  wallets and phone cases that they made from duct tape.
The two seventh graders from All Saints School raised the funds by selling the hand crafted items to family and friends and at garage sales.
You can read more about their generosity by clicking here.
Tapenews.com is your source for "all the news that's fit to stick". Send us your interesting tape news and we'll share it with the world! Thetapeworks.com