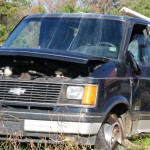 Reno, Nevada police warned motorists to be aware of auto repair scammers who pretend to repair a car, but actually just cover up damage with duct tape.
Here's the story of a recent arrest of two Nevada men.
Tapenews.com is your source for "all the news that's fit to stick". Send us your interesting tape news and we'll share it with the world!