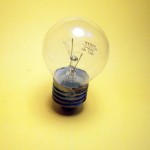 Among other "dishes" on the revamping of celebrity chef Gordon Ramsey's London flagship restaurant, the British web site Metro, described the light fixture in the dining room as looking like "three bicycle wheels strapped together with gaffer tape".
You can read the review and see the offending light fixture if you click here.
Tapenews.com is your source for "all the news that's fit to stick". Send us your interesting tape news and we'll share it with the world!