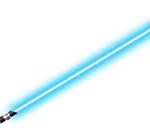 Nick Gallard, the stunt coordinator for the Star Wars movies, is teaching a light saber master class next week in Los Angeles.
While, you can bring your own light saber to the class, Gallard warns that the real thing is fragile and recommends that you consider using a piece of bamboo wrapped in gaffers tape instead.
Click here to sign up.
Tapenews.com is your source for "all the news that's fit to stick". Send us your interesting tape news and we'll share it with the world! Thetapeworks.com