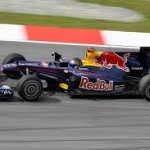 Sebastian Vettel's million dollar  McLaren race car had to count on lowly gaffers tape in order to take the pole in this years' Belgian Grand Prix.
Vettel collided with Pastor Maldonado of the Williams Team during one qualifying session and needed tape to bandage the front wing of his car in order to complete qualifying.
The quick repair allowed the Red Bull team to win it's 13 consecutive pole.
As it turns out that gaffers tape takes the trophy, as Sebastian Vettel and Red Bull were able to use his hard won pole position to take victory in the race.

Tapenews.com is your source for "all the news that's fit to stick". Send us your interesting tape news and we'll share it with the world! Thetapeworks.com.