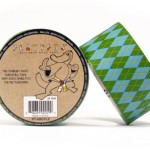 We know that "do it yourself" duct tape craft projects are everywhere, but occasionally one still catches our eye.
Craftfasyings.com has these plans for making a tie from duct tape.
You can make it really special by using this argyle print tape so that it matches the socks you gave him last Fathers Day.