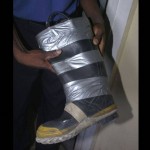 A recent audit of  the St. James Fire Department in Jamaica has uncovered such unconventional practices as repairing firefighters boots with duct tape.
The Montego Bay fire station is struggling to operate in an environment where budget cuts and lack of resources continue to challenge this tourism destination in providing basic services to citizens.
Read the article in the Jamaica Gleaner here.

Tapenews.com is your source for "all the news that's fit to stick". Send us your interesting tape news and we'll share it with the world! Thetapeworks.com.