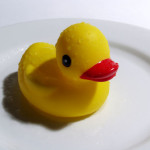 This weekend, June 19-21, will see the 12th year of the Duct Tape Festival in Avon Ohio.
This festival, which celebrates "all things duct tape" will feature a parade, music, magic and duct tape fashion.
The festival is sponsored by the Duck brand of duct tape and admission is free.
Click here for the official festival web site.