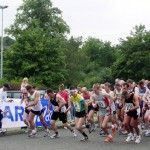 Last Saturday's 5K run in Owasso, OK was a fund raiser for Owasso's  "Odyssey of the Mind".
School kids who participated in the event wore duct tape clothing that they made themselves.
Funds raised will be used towards sending a team to the Odyssey of the Mind world competition in Lansing, Michigan.
Click here to see video of the race.
Tapenews.com is your source for "all the news that's fit to stick". Send us your interesting tape news and we'll share it with the world! Thetapeworks.com