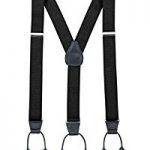 Apparently printed vinyl tape (not duct tape, as the article calls it) is a hot new fashion accessory for fall of 2017.
Models walking the runway used tape printed with words like "Walk With Me" and "I Love You" instead of belts to hold their pants up.
We've made onsite clothing repairs with gaffers tape on more than one occasion, but when the tape ends up costing more than a new pair of pants, it is probably time to go shopping.
By the way, Raf Simons is selling his tape for $250 a roll!
Read more and see pictures by clicking here.