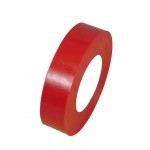 You can turn every day clothing into custom Halloween costumes with simple and inexpensive electrical tape.
Here's some quick ideas from a thrifty mom.

Tapenews.com is your source for "all the news that's fit to stick". Send us your interesting tape news and we'll share it with the world! Thetapeworks.com.