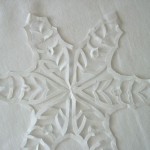 Russian photographer Alexey Kljatov managed to use about the ugliest tape job we've ever seen to create some stunning images of snow flakes.
Kljatov taped a vintage Russian camera lens to his Canon powershot camera, tied the whole thing together with a stick, and made macro images of snowflakes that are absolutely stunning.
Click here and take a look for yourself.