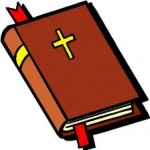 Jake Snider, a youth pastor in Decatur, IN has devised a heavenly craft for some of his kids.
Rev. Snider created a project where teens he works with decorated inexpensive Bibles with duct tape patterns. Snider reports that teen boys in his youth group were quickly engrossed in the project.
You can read more about his sticky ministry here.
Tapenews.com is your source for "all the news that's fit to stick". Send us your interesting tape news and we'll share it with the world! Thetapeworks.com