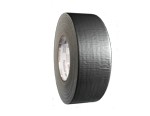 In a new twist on "duct tape as an art medium", collage artist Tirtzah Bassel is creating "almost real time" art using duct tape while attending the Miami Art Basel.
Bassel would wander the show during the morning hours and then create images of the art dealers and displays she saw, returning to the show with them the same afternoon.
Click here to see some of her work.