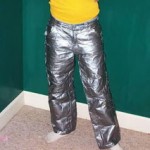 In something of a futile attempt to enforce his schools dress code,  Mt. View High School (Montrose, PA) dean George Barbolish used duct tape to tempoarily cover rips in students jeans.
In further action to make the dress code even more restrictive, school officials now propose to no longer allow t shirts or turtlenecks, unless they are covered by a sweater.
Good luck on that one!