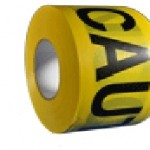 The Wilmington Star News online crime report is called "Behind The Yellow Tape" and uses a picture of police barricade tape in its masthead.
The sub-category is "Public Safety in the Cape Fear Region".
Amazingly, today's posting doesn't mention a single crime committed with duct tape!

Tapenews.com is your source for "all the news that's fit to stick". Send us your interesting tape news and we'll share it with the world!