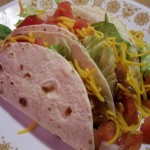 Lots of high school kids may think that Taco Bell is the "bomb", but a Taco Bell wrapper led to a real bomb scare in Fair Oaks, Ca.
Police gave a "shelter in place order" and shut down a local high school after someone reported a suspicious package.
Turns out the package was a taco bell wrapper bundled in duct tape.
Tapenews.com is your source for "all the news that's fit to stick". Send us your interesting tape news and we'll share it with the world!