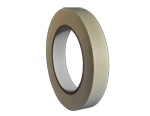 The Hall of Fame Weekend celebration at the Baseball Hall of Fame gave a "tip of the hat" to masking tape.
Ex-New York Yankee Ron Blomberg explained that he had always put a piece of white masking tape on his batting helmet for luck.
Click here to get your own good luck.

Tapenews.com is your source for "all the news that's fit to stick". Send us your interesting tape news and we'll share it with the world!Thetapeworks.com