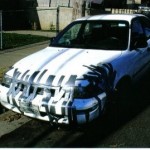 We've made occasional auto repairs with duct tape, but never realized that it has now become a standard component in auto mainteance.
As these tips from octanecreative.com show, you probably should not leave the garage without a roll under the seat.

Tapenews.com is your source for "all the news that's fit to stick". Send us your interesting tape news and we'll share it with the world!