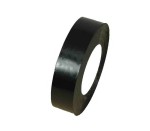 Participants in this year's Boston Marathon have taken to wearing their "finisher" medals adorned with a piece of black electrical tape across the medal as a way to commemorate those who were killed or injured in the bombing at the finish line.
Runner's World magazine is featuring a picture of the medal on it's most recent cover.
Click here to see the cover and to read a story about the photo shoot.
Tapenews.com is your source for "all the news that's fit to stick". Send us your interesting tape news and we'll share it with the world!