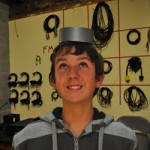 Noted hair sylist Alexander Wang is styling hair with duct tape. His work, intended for an Australian fashion show, uses duct tape as a wearable hair accessory.
Using bands of duct tape, Wang creates a multi-layer pony tail.
Click here to see his work. No word yet on the bald look his models will be showcasing after they try to remove the tape.
Tapenews.com is your source for "all the news that's fit to stick". Send us your interesting tape news and we'll share it with the world!