My daily search for duct tape news always turns up an abundance of articles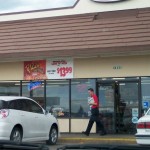 about criminals who bound their victims with duct tape. It's standard operating procedure these days.
A store clerk in Clallam Bay, Wa. turned the tables on a would-be thief when, after being attacked with a knife, he was able to subdue the assailant, disarm him and tie his hands behind his back with duct tape.
Click here if you want to read the article.