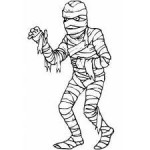 There have been a number of stories in the news about parents and care givers being arrested after restraining children with duct tape.
Chinese performance artist presented a performance art piece on the street by wrapping herself in tape and cloth.  She finished the performance by trying to escape the tape bonds while blindfolded.
For an encore, she is going to arrest herself!
Read about the show here.
Tapenews.com is your source for "all the news that's fit to stick". Send us your interesting tape news and we'll share it with the world! Thetapeworks.com