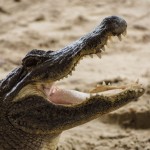 In a ceremony important to local fisherman, and one that will drive supporters of traditional marriage crazy, the mayor of a small Mexican town wed an alligator.
Mayor Joel Vazquez Rios clearly takes the well-being of his citizens to heart. The leader of Man Pedro Huamelula stepped up to the altar and "married" a small alligator.
Apparently, whomever dressed the bride was unaware that duct tape used to tape the gator's mouth closed comes in colors other than silver.
Click here to watch a video of the ceremony.