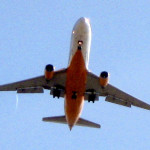 A Quantas Air Lines flight attendant has filed a suit against her employer, claiming that she was deafened in one ear when the plane she was flying was depressuirezed after a temporary tape seal on a door failed, creating a loud, high pitched noise.
After the duct tape seal failed, the crew was temporarily able to replace it with wet towels and the plane landed safely.
The flight attendant subsequently lost her job.
Click here to read the story.