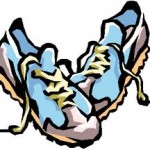 Cross country runners at Notre Dame High School in Pennsylvania shared this trick to keep their shoes on when running on a muddy course.
Eric Busher and Mike Martinsky, seniors on the team, tie their shoes with duct tape to keep them from coming unlaced.
Martinsky said that they started using duct tape after feeling like mud was going to suck the shoes right off of their feet.
Tapenews.com is your source for "all the news that's fit to stick". Send us your interesting tape news and we'll share it with the world! Thetapeworks.com.