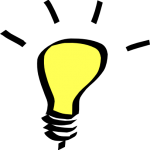 Removing a broken light bulb can be just a little scary.  The combination of broken shards of glass and "mystery" metals and powders inside the lamp create multiple hazards that you don't want to touch.
Lifehacker has detailed instructions on how to use a length of duct tape to safely get the lamp out of its socket.
Once you've removed  it, wrap the pieces in a little more duct tape so that it can be safely disposed of in the trash.
Here are the detailed instructions.

Tapenews.com is your source for "all the news that's fit to stick". Send us your interesting tape news and we'll share it with the world! Thetapeworks.com.