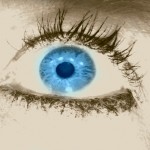 Well, not exactly, but close.
Photographer Nick Fancher has a method for using the reflective properties of black and white gaffers tape to change the highlights in the eyes of a photo subject. His technique is for what is called "catch light", which is what you see reflected in the pupils of someone in a photograph.
The tape is applied to a board (white tape on black board-black tape on white board)  and reflected into the subjects eyes to generate abstract catch light patterns.
You can see an example of his work and learn the technique by clicking here.
Tapenews.com is your source for "all the news that's fit to stick". Send us your interesting tape news and we'll share it with the world! Thetapeworks.com