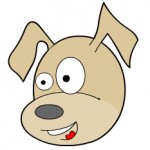 Participants Brian and Kevin Fleming on "Shark Tank", the show about entrepeneurs' pitches about new products,  revealed that the idea for their invention the "Bag Bowl" was born from the need to provide water for a thirsty dog at a dog park.
Kevin explained that the first Bag Bowl was made from gaffers tape and popsicle sticks.
You can read more about the birth of the Bag Bowl here.
Tapenews.com is your source for "all the news that's fit to stick". Send us your interesting tape news and we'll share it with the world! Thetapeworks.com