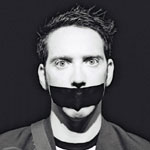 The Independent British newspaper reports that gaffers tape is the censors' choice for covering up parts of women's bodies on publications they refer to as "Lad Magazines" when they are sold in strict Islamist countries.
Apparently in some countries that have strict Islamist rules, pornographic magazines are still sold in airport newstands.
This form of censorship is primarily intended to protect those who sell the publications rather than those who might be purchasing them.