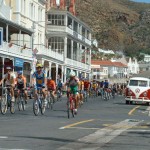 Bicycle riders in Detroit are tired of waiting for the city to establish bike lanes, so they are doing it themselves.
Over the past weekend, three blocks of busy Detroit Ave. were lined with bike lanes using white duct tape.
While the lines probably won't last long, they might help prompt some action, as the city has announced that bids for creating new bike lanes for the city are due by the end of September.
Detroit Ave. is one of the motor city's busiest bike paths.
Read the story and see a video by clicking here.