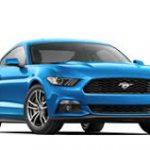 Designers of the new 2018 Ford Mustang were less than happy with the cornering response of their new muscle car.
Engineers found that simply applying a small strip of duct tape to a grille opening in the car reduced front end lift when the car cornered at speed.
Subsequent versions of the design incorporated this finding into lowered nose and active shutters in the grille to shut off air flow.
Now word yet on what Ford will charge for the duct tape option.
Read more about this story by clicking here.