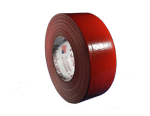 We normally don't bother with posts related to crimes involving duct tape, because there seem to be dozens of them in our news alerts every day.
Occasionally, though, we have to share one.
A Johnston County (North Carolina) man has been arrested after being charged with kidnapping a man in tying him up with duct tape.
Nothing unusual about that.
What caught our eyes was that the kidnapper covered the duct tape with spray paint.