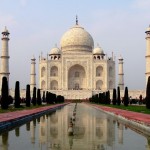 An exhibition at the University of Cincinnati's College of Design, Architecture, Art and Planning features duct tape drawings created by Joe Girandola.
Girandola is the director of the MFA program in Fine Arts at the school.
Click here to see his Taj Mahal "drawing", made completely of colored duct tape.
Tapenews.com is your source for "all the news that's fit to stick". Send us your interesting tape news and we'll share it with the world! Thetapeworks.com